Shin-ichi Kimura

Professor

Solid-State Spectroscopy, Kimura Group

Room D702, Graduate School of Frontier Biosciences (
Suita Campus

)

1-3 Yamadaoka, Suita, Osaka 565-0871


kimura
[atmark]
fbs.osaka-u.ac.jp


http://kimura-lab.com/



Research Interests:

Physical properties of solids, such as magnetism and ferroelectricity, and life phenomena, such as redox and photosynthesis, originate from the electronic states in materials and their interactions. To clarify the electronic states provides us not only the information of the origins of the physical properties and life phenomena but also the expectation and creation of novel functionalities. To visualize of the change of the electronic state, we also develop novel spectroscopic techniques using synchrotron radiation and other quantum beams. On the basis of the obtained information of electronic structures, we are aiming to develop novel physical properties of new materials.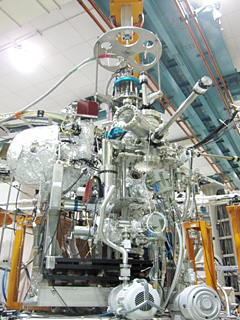 Selected Publications:

See http://www.kimura-lab.com/publication.html


Biography:

[Academic career]
Degree received
B.S. from Department of Physics, Tohoku University, 1988.
M.S. from Department of Physics, Tohoku University, 1990.
Ph. D (Dr. Sc) from Tohoku University, 1991.


[Work Experience]

April 1991 - March 1993
Research Fellow of the Japan Society for the Promotion of Science for Young Scientists

May 1993 - October 1993
Research Associate, Graduate School of Science and Technology, Kobe University

October 1993 - March 1998
Research Associate, UVSOR Facility, Institute for Molecular Science

April 1998 - March 2002
Associate Professor, Graduate School of Science and Technology, Kobe University

April 2002 - June 2013
Associate Professor, UVSOR Facility, Institute for Molecular Science

July 2013 -
Professor, Graduate School of Frontier Biosciences, Osaka University