Condensed Matter Physics and Interdisciplinary Physics
Physics of Strongly Correlated Electron Systems, Hanasaki Group



http://www-gmr.phys.sci.osaka-u.ac.jp

Research Interests

1.
Novel magnetotransport phenomena due to the strong electron correlation in the organic and the inorganic conductors
2.
Thermoelectric effect


Introduction to the research interests

The strongly correlated electron systems provide a lot of interesting magnetotransport phenomena such as the giant magnetoresistance effect. For the realization of the giant magnetoresistance effect, the correlation between the spin and the charge degrees of the freedom is essential, since the spin configuration, which is controlled by the external magnetic field, determines the electron transfer. The phthalocyanine molecules have the conduction electrons and the local moments. One can expect the strong intramolecular interaction between them. In this phthalocyanine-molecular conductors, we found the giant negative magnetoresistance. We explore the gigantic response caused by the strong electron correlation in the organic and inorganic conductors, and investigate the thermoelectric effect as well. In the experiment, we use the floating-zone furnace, the hydrothermal-synthesis furnace, the superconducting magnet for the measurement of the magnetization and the magnetotransport, and the FTIR.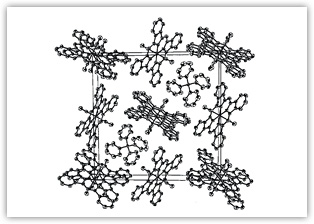 Crystal structure of phthalocyanine-molecular conductor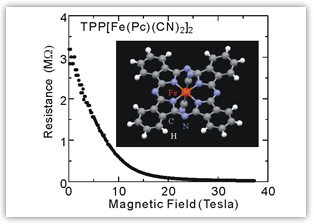 Giant negative magnetoresistance
in phthalocyanine-molecular conductor.
Inset: Molecule of dicyano(phthalocyaninato)iron