Fundamental Physics
Nuclear Theory, Asakawa Group



http://www-nuclth.phys.sci.osaka-u.ac.jp/

Research Interests

1.
Quark-hadron phase transition at finite temperature and density
2.
Theory of high energy nucleus-nucleus collisions
3.
Low energy electroweak interaction in nuclear systems
4.
Hadron interactions in medium energy region
5.
Study of hadron structure on the basis of quark models
6.
Properties of quarks in the early universe and the origin of quark mass


Introduction to the research interests

Almost all physical phenomena in our present universe are well described by hadrons, including nucleons and Yukawa mesons, and leptons. It is known that the hadrons are composed of more fundamental internal degrees of freedom called quarks and gluons. Dynamics of quarks and gluons are described by Quantum Chromodynamics (QCD), which is a part of the standard model. Our group studies the physics described by the standard model, especially the dynamics of quarks and gluons in the early universe based on QCD, and the properties of hadrons in the present universe.
QCD predicts that quarks and gluons were deconfined in the early universe, whereas these degrees of freedom are confined in hadrons and never observed in isolation in the present universe. This means that there was at least one phase transition during the evolution of the universe. To arrive at a unified picture of this phase transition and the properties of matter during the evolution of the universe is a challenging subject. We try to resolve this problem using theoretical techniques in field theory and condensed matter physics, as well as lattice QCD Monte Carlo simulation. We are also exploring the interaction and internal structure of hadrons in the present universe in order to clarify the dynamics of the standard model, and physics beyond the standard model.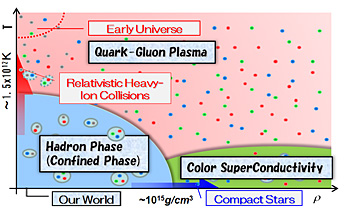 Phase diagram of Quantum chromodynamics (QCD) at finite temperature and density