Cybermedia Center
Interdisciplinary Computational Physics Group



https://sites.google.com/view/cpcmc-eng

Research Interests

1.
Protein folding, design and evolution
2.
Physics of glass and jamming transitions
3.
Evolution of gene regulatory networks
4.
Statistical inference and optimization problems
5.
Critical phenomena and phase transition
6.
New Monte Carlo sampling methods based on extended ensembles
7.
Traffic flows as nonlinear dynamical system


Introduction to the research interests

Various interdisciplinary subjects, e.g., biological systems, glassy materials and traffic flows, are studied in the light of statistical mechanics, nonlinear dynamics and computational physics. Although the subjects seem to be quite different from each other, at first glance, they share the same key concepts: their complex behaviors emerge from the complex interactions among large number of relatively simple elements. Researches on new methodologies of scientific computing are also in progress.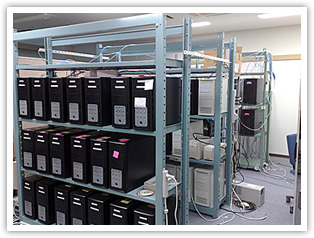 PC Cluster System